It is very intuitive that bad weather will have a negative impact on the number of customers, but how big is this impact? A recent study performed by DFRC in the Gangnam district provides an answer to this question.
The central part of Gangnam district is famous as a commercial area which is converted at night time to a shopping and entertainment area.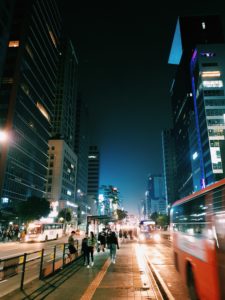 A study that had been conducted during the first ten days of August, which was a period of time characterised with almost non-stop rain, tried to measure the impact of the weather on the street activity in this region.
According to this study the footfall activity had decreased 15% compared to normal during weekdays and up to 33% during weekends.
The results indicated that the majority of the people attending to shopping and entertainment areas during weekdays are coming from the offices nearby and therefore they are less sensitive to the weather conditions while weekends attracts visitors arriving specifically for leisure activities and therefore sensitive to weather conditions.
For more information please check Open Data Solution for Smart Cities and Municipalities