Products
We are equipped with a wide range of Sensors that can satisfy your specific needs. Our new LiveWalk series of Sensors provides a solution for every need. You can customize your own Sensors in an assortment of each part depending on your conditions, such as tracking purposes, installation sites, etc. 
---
1. case
You can choose which cabinet to keep the sensor depending on the deployment plan. We recommend plastic cabinets for indoor installation and steel cabinets for outdoor. Our metal cabinets are designed for extreme environmental conditions and its operating temperature is -30 ~ 75 ºC. You can check the specification from below.

2.

Power Sour

ce
You can also choose PoE (Power Over Ethernet) as an available option for power source, which allows a single cable to provide both data connection and electric power to devices. You can decide it depending on the conditions of the construction sites.
3.

Communication Methods
For those Sensors with limited access to LAN Cable or WiFi, Modem (LTE) is recommended as a considerable option. 
4.

Antenna
You can select Directional antennas ranging up to 250m in length and 40m in width, which is a more efficient solution for long yet narrow space, such as urban parks, traditional market, river park, etc. At some points where intensive tracking is needed, Omni antennas are desirable.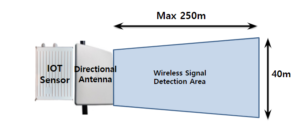 ---
operating devices
Also, we suggest additional sets of solutions be used by connecting to other devices. These are designed for open but small space.
For further information, please contact us through our website or email.