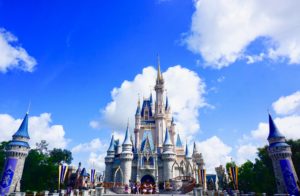 Disney World
Since its first open in California in 1955, Disneyland still remains as a paradise for not only kids but also adults grown up with all the Disney's characters. With millions of visitors to each 6 Disney resorts, it is necessary to arrange them efficiently and allocate its personnel based on their distributions. Disney is operating this by introducing 'magic bands', an RFID bracelet that will enable you to easily pass through ticket barriers, skip the queues for rides and buy overpriced merchandise in many shops. Compared to Surveillance, the past way of monitoring the crowds, RFID requires fewer people to monitor and guarantees higher precision than manual countings.
industrial environment
Obviously, RFID is a way which is highly efficient and effective at the same time, however, at the commercial level, this may result in additional cost in that theme parks need to upgrade their entrance pass as Disneylands did. The sensor of DFRC, LBASense, is based on the Media Access Control (MAC) address, which is a unique identifier assigned to a network interface controller, mobile.
Configuration1: Sensor Process of lbasense

After detecting the MAC Address of each device, our system automatically encrypts these to avoid privacy issues, which takes advantages of RFID and Surveillance. Our system monitors the range every minute and collects such randomized code to distinguish the new visitors to the area. The information is displayed to the users through various methods, such as API, Mobile App, and Dashboard.
Configuration2: mobility example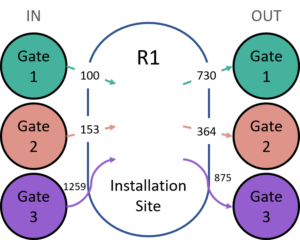 MOBILITY
The information to be shared to the users includes the number of unique visitors per day and current visitors, crowd prediction based on the data from the past as well as Mobility and Link. Through Mobility measures, we can derive which attractions are busiest and how to position their staffs to welcome the guests. Also, with currently trending COVID19, this measure is the powerful standard for the business holders to limit the number of visitors for each gate.
Configuration3: visualization of link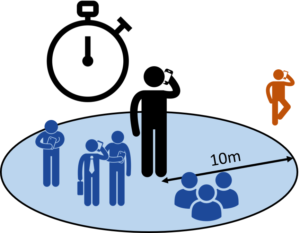 link
Link, which is the number of contacts of others who stayed in 10 meters radius more than 1 minute, is another useful index for the operators. Our system records with whom each visitor encountered at all sites and how long they stayed together. It could be used to identify the critical people who are exposed to any chance of getting epidemic diseases and also to sense the emergency case.
---
In addition, experiences of deploying Sensors in 59 cities all around the world, DFRC guarantees you will have the best experience with LBASense. If you want further information about solutions of DFRC, please contact us via our webpage and email.
This article is based on the article 'Data-driven Disney monitors your every move' by James O'Malley.