For Whom?
LBASense's patented Epidemic Monitoring system is tailored for Smart Cities, hospitals, public health representatives who want to monitor and track the movements of persons who have been exposed to an infectious disease.
---
Why Do You Need It?
Hospitals are known as a primary potential source for the distribution of an epidemic at early stages as many unidentified patients are expected to arrive at the hospital and to be in touch with other people and staff.
We, therefore, bring you the opportunity to analyse and monitor the movements of persons who have possibly been exposed to a contagious illness. To do so, the LBASense Wi-Fi infrastructure is easily deployed in the hospital allowing the tracking in the city of visitors, patients and staff.
Our system is based on one solution and two modes of operations:
‑PASSIVE MODE where the system collects the location of visitors and staff,
‑ACTIVE MODE where all visitors are required to register prior to entering the site (hospital, clinic etc…). This mode can also be integrated with facial recognition.
---
What Will You Get?
LBASense Epidemic Monitoring system provides:
the total number of people exposed to a contamination risk per monitored location
the registration of persons at risk of contaminating others and the possibility to locate them
The solution consists of a full package of sensors and monitoring tools. The system consists of mobile phones detectors to install in the selected area, that passively sense the signals transmitted over WiFi network.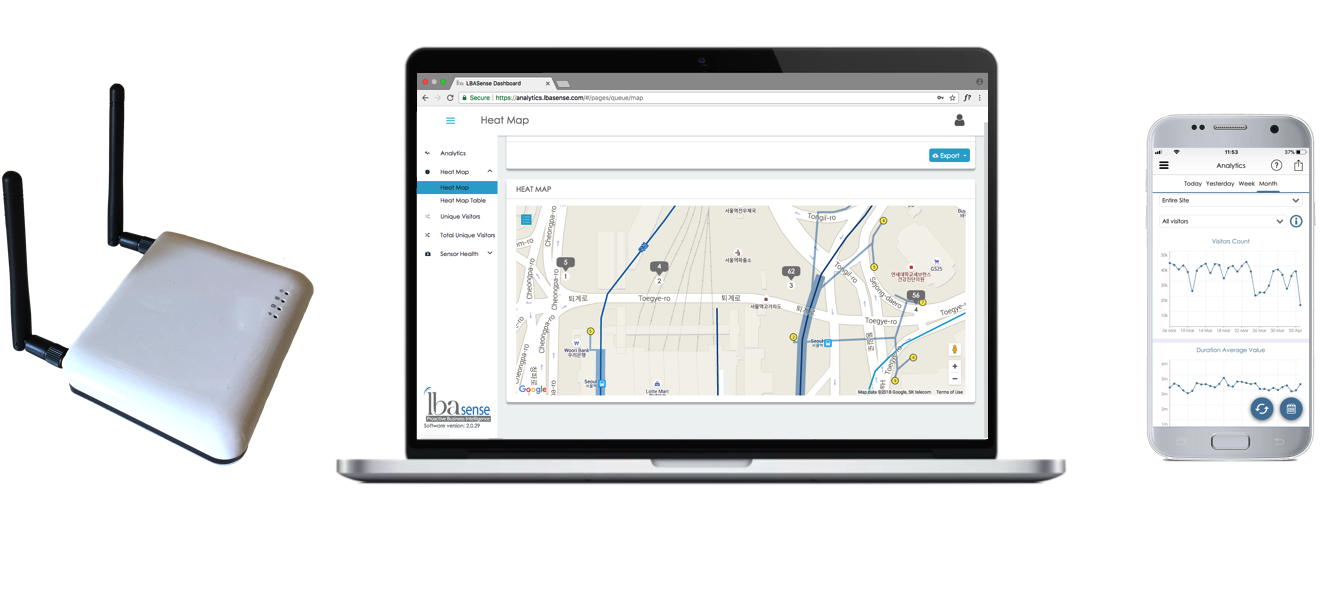 The users visualise results on a web-based and password-protected dashboard and mobile app, as well as via APIs for integration with 3rd-party systems. Moreover, data is available in real-time and historical views, in daily and hourly resolution.
---
Why Our Product?
Thanks to our unique technology, we offer highly accurate analytics at low cost, enabling powerful insights for any stakeholder.
In the PASSIVE MODE, LBASense system deployed in the hospital collects monitoring data, which are stored in an anonymous database:
At any time, visitors and staff can check if they had been exposed to an epidemic using a mobile app or a special web site.
LBASense system automatically provides risk assessments based on the link between the visitors and the infected patients.
In the ACTIVE MODE, in case of a disease emergency:
The hospital's patients, visitors and staff are obligated to register to the system prior to the entrance to the hospital.
Registration can be performed by the mobile phone using a special app or via a captive portal.
The system will actively inform users and authorities in case of potential exposure to an infected person.
.
Do you want to know more about the LBASense Epidemic Monitoring system?  Contact us to deploy the system in your city.
/
Photo credits: cover photo by Samuel Scalzo; all other images by DFRC (all rights reserved).