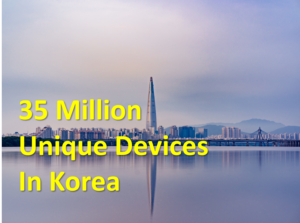 Our system had collected 35,101,182 unique mobile devices in Korea.
Our system, currently deployed in 30 cities in Korea, is measuring the activity patterns of the people visiting key tourist attractions below including the following locations in Korea:
Gangnam Subway Station, Seoul
Traditional Markets in Seoul city
Seomun Market, Daegu
Namwon city downtown
Damyang city downtown
Jinju city Markets
Suyeong Paldo Market, Busan
Busan Beach
33 Rest stops all over Korea – Giheung(Busan), Okcheon(Seoul), Guri(Seoul), Yesan(Daejeon), Guri(Ilsan) etc.
The information includes the number of visitors, the duration of stay, revisit patterns and mobility between different locations.
Based on this dataset, our customers are eligible to not only predict the number of visitors but also understand from where they are coming and where they are going and adapt services that are offered to those visitors in near real-time.
If you are interested in our Data and willing to know more about this chance, you can find more details Here.
For more information related to the solutions of DFRC, please contact us through email of our webpage.