For Whom?
The Crowd Analytics for Pop-Up Events solution is tailored for event organisers, festivals, outdoor markets, concert managers who want to know more about their crowds' behaviour at and around a venue.
---
Why Do You Need It?
It's essential to offer your audience an unforgettable experience, where everything, from the gig to the food corner and the restrooms, is neat, safe and enjoyable. Observe your people's habits to improve services, build a better and smarter environment and make sure to increase your customer retention. Analyse peak hours to improve accessibility and safety.

We therefore bring you a platform to analyse crowds attending your event, by extracting accurate yet anonymous information about footfall and demographics, passively listening to mobile phones signals.
---
What Will You Get?
The total number of visitors currently on site.
The total number of Unique visitors per during the event in multiple ranges
Alerts in case that the number of visitors is above a specific limit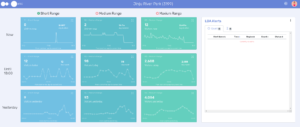 ---
Which type of sensor is required?
For a short event of up to 2 hours, we recommend to use LiveWalk 101 Android based sensor
For events that are up to 6 hours, we recommend on LiveWalk 301 with an external battery
Longer events will require a replacement of batteries or a permanent power supply